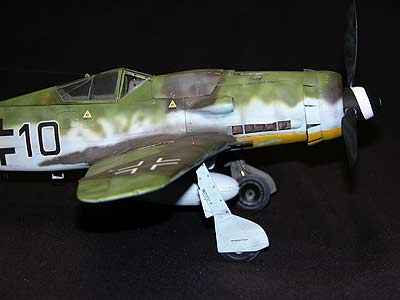 SURFACE DETAIL AND FINISH
The panel lines were scribed with a steel scribing tool (before manufactured scribers for panel lines were on the market) and flush rivets simulated by pressing and twisting a cut off and resharpened number 20 and 24 hypodermic needles. Displaced plastic was scraped away.
Aluminum skinned World War II aircraft actually had uneven surfaces due to the fact that the skin itself was relatively thin. Also, doors and panels that were opened frequently often did not fit perfectly. Subtle uneven surface imperfections around various rivets and panels were added when the panel lines and rivets were put on the model. Doors were intentionly warped to match photographic references. In 1/32nd scale the imperfect surface effect had to be accomplished mostly with uneven variations in paint to give a realistic scale appearance.
The model was painted with Pactra enamels, mostly the long discontinued Pactra International line. The upper surface colors of RLM 81 Brown-Violet and RLM 82 Bright Green were mixed with primary colors of red, yellow and blue. These tertiary colors did not exist as a bottled paint in the early 1980s. Also used was Humbrol RLM 02 Grey, RLM 76 Light Blue and Scale Black from the old Pactra Flats line. Various tints, shades and tones of each color were airbrushed with a Paasche VL to simulate faded paint. Chipped and scraped areas were prepainted with silver Rub'nBuff. Camouflage colors were painted over the silver and carefully scraped away.
On the actual aircraft, the yellow paint applied to the rudder and lower cowling panels was water-based. The yellow paint on the cowling panels was removed in spots with fine sandpaper and water. It was also thinned out in areas to simulate the fragile nature of the paint. Additional weathering was accomplished with the airbrush and paints, gouache washes, dry brushing and chalk pastels.
All major markings are airbrushed. Stenciling is a combination of hand painting and Microscale decals. The Werk Number is press type.
Artist's note:
This artist feels that the current fad of "pre-shading" panel lines is, in most cases, not a realistic effect. Weathering and various paint discoloration needs to be more selectively applied. Although it makes panel lines stand out, this appearance is just not backed up by historical photographic evidence or observation of modern aircraft. While some have used the technique to make very realistic looking finishes, most do not look like a scale finish...it looks like a model finish used to over accentuate panel and rivet lines.